Search Engine Optimisation (SEO) is the cornerstone of any successful digital marketing strategy. It has the power to elevate your visibility on search engines, drive organic traffic to your website, and increase conversions en masse. Yet, implementing SEO can be a complex and demanding task, especially when juggling multiple websites and marketing campaigns.
Here lies the importance of SEO automation tools. In this booming era of AI, these automation tools can take the reins of mundane SEO tasks, from keyword research and content creation to link building and reporting. The major advantage of employing these digital assistants is their efficiency in managing time and saving resources, all while elevating your SEO performance and efficiency to dizzying heights.
Here, we look at five popular SEO automation tools you can utilise to boost your efficiency and help you achieve your SEO goals faster. These tools are:
1. SEMrush
SEMrush is an icon among SEO tools and is widely renowned for its versatility and comprehensiveness. This powerhouse boasts a range of splendid features which include:
Unearthing keywords through meticulous research and analysis

Ascertaining and tracking your and your competitors' rankings

Auditing your website's technical SEO

Creating optimised content for dazzling digital marketing campaigns

Cultivating and curating a superior backlink profile

Design bespoke SEO reports and dashboards for a personalised touch
But the avant-garde prowess of SEMrush doesn't stop there; the SEO automation suite also includes:
Position Tracking: Keeping a vigilant eye on your ranking for target keywords across diverse devices, locations, and search engines and receiving real-time notifications for status changes.
Site Audit: Seamlessly scan your website, diagnosing technical ailments that hinder your SEO performance, accompanied by an exquisite prescription of actionable recommendations.
2. Ahrefs
Ahrefs is a rival virtuoso in the realm of SEO automation. Its harmonious features include:
Keyword Research And Analysis

Rank Tracking And Competitor Analysis

Site Audit And Technical SEO

Content Creation And Optimisation

Link Building And Management

SEO Analytics
What sets Ahrefs apart among these tools are its distinctive features, which include:
Keywords Explorer: With this tool, you can discover thousands of keyword ideas for any topic or niche. The explorer also provides you with various metrics and insights on each keyword, such as search volume, difficulty, clicks, and trends.
Content Explorer: This tool helps you find the most relevant content for any topic or keyword. With Ahrefs content explorer, you gain insight into metrics such as social shares, backlinks, and traffic for every piece of content.
3. Moz Pro
Joining the chorus of SEO virtuosos is Moz Pro, a tool of consummate capabilities, well-versed in site audits, backlink analysis, and keyword research. Much like other tools mentioned, this tool offers features that can assist you in identifying the strengths and weaknesses of your website. Yet, it stands in the spotlight, displaying unique features like:
Page Optimisation: A graceful tool that optimises web pages for target keywords, lending poetic brilliance to titles, meta descriptions, headings, and content suggestions.
Link Explorer: Using this, you can unravel the mysteries of your link profile through metrics like domain authority, page authority, spam score, and anchor text.
4. Screaming Frog
Screaming Frog takes centre stage as the specialist, focusing on website crawling and auditing. Its grand performance includes:
Crawling and analysing your website's structure, links, content, and metadata.

The discovery and mending of broken links, redirects, duplicate content, missing tags, and other potential missteps

Generation of XML sitemaps, robots.txt files, hreflang tags, and other essential components

A breathtaking integration with other SEO tools and platforms, including Google Analytics, Google Search Console, Ahrefs, and Moz Pro.
5. Zapier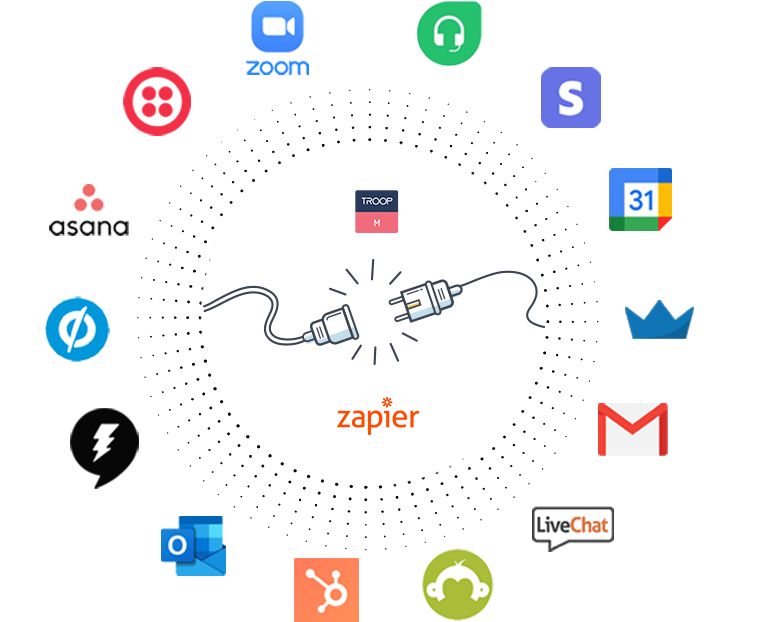 Image source: https://www.troopmessenger.com/
While not inherently an SEO tool, Zapier claims the title of unifying ace, automating seamless connections and integrations between various SEO tools and apps. Its power allows you to compose workflows and tasks that automatically move into action upon specific events or actions. For example, you can enchant your audience by:
Send an email when your rankings change or when you get a new backlink

Create a Google Sheet when you find a new keyword or content idea

Update your social media profiles or blog posts when you publish new content 

Generate and send SEO reports or dashboards to your clients or team members
Conclusion
SEO automation tools are the modern-day accessories every digital marketer must embrace. These resplendent tools promise a new era of SEO efficiency and effectiveness. However, SEO automation tools are not a substitute for human expertise and creativity.
You still need to have a clear SEO strategy, consistently analyse your results, and adjust your actions accordingly. Vendo Digital is a data-driven UK digital agency that specialises in doing just that – providing customised digital transformation services, enabling businesses to streamline operations, enhance customer experience, and attain sustainable growth.