It doesn't matter whether you are using your living room for binge-watching, family gatherings or just to respite after a rough day at work, the living room is always the most happening part of the house and there is always a lot going on in a confined space. So, when it comes to designing a living room, both functionality and a balanced look should be on an even keel; otherwise, the purpose of having a living room in the house will be lost.
But you don't need to be an interior design expert or follow a design lexicon to plan and design your living room. While at the same time, making living room design mistakes is easier than you think. Many people try to do so many things with their living room design, but many times, they end up with a crowded space with no space to freely move around and they even lose the basic functionality of the space.
Whether you are building your living room from scratch or planning to make some changes in your current living room, the mistakes that we are about to mention in this blog post will help you in staying away from interior design blunders. Keep reading to stay illuminated.
1. Pushing Sofas Against The Wall
The biggest mistake that is a complete turn-off for interior design experts is pushing the sofas against the wall in a well-designed living room. This might seem like a good idea to make your living room bigger by creating more space at the center but in actuality, it can reverse the effect.
When all the furniture pieces in the living room are pushed towards the wall, it gives an effect of confined space, and therefore, it can make even your large living room look smaller. But it doesn't mean you should make the center space crowded with furniture. Just push the sofas a little bit from the wall so there is breathing space between the wall and the furniture and your living room can look bigger.
2. Buying The Wrong Size Rug
Another living room decor mistake most homeowners make is investing in the wrong size rug. When it comes to anchoring a living room scheme, there is nothing better than a rug and that's why they are ubiquitous in almost every living room you have stepped in. It also gives a focal point around which other furniture pieces can be arranged. But most people never keep the size of the space in mind and that's why they end up buying a smaller rug.
A living room with only different furniture sets can look like they are floating in the room but just add a simple rug and it will anchor the entire furniture scheme and bring everything together. But this can be achieved only when you invest in the right size of rug.
3. Investing In Ill-Fitting Furniture
Just like the rug, the furniture you are buying should also fit like a glove in your living room. It should never make the living room look crowded and at the same time, it should never look like a tiny part of the living room. Since furniture plays an imperative role in governing the living room decor, there is no way you can compromise when it comes to the right size.
To be on the safe side, you should first make a rough layout of the living room by measuring it with a simple measuring tape. This will give you an idea of the size of the furniture you should buy. Not to mention, you should leave some space in the living room so that people can walk and move freely even after adding the furniture.
4. Not Considering Armchairs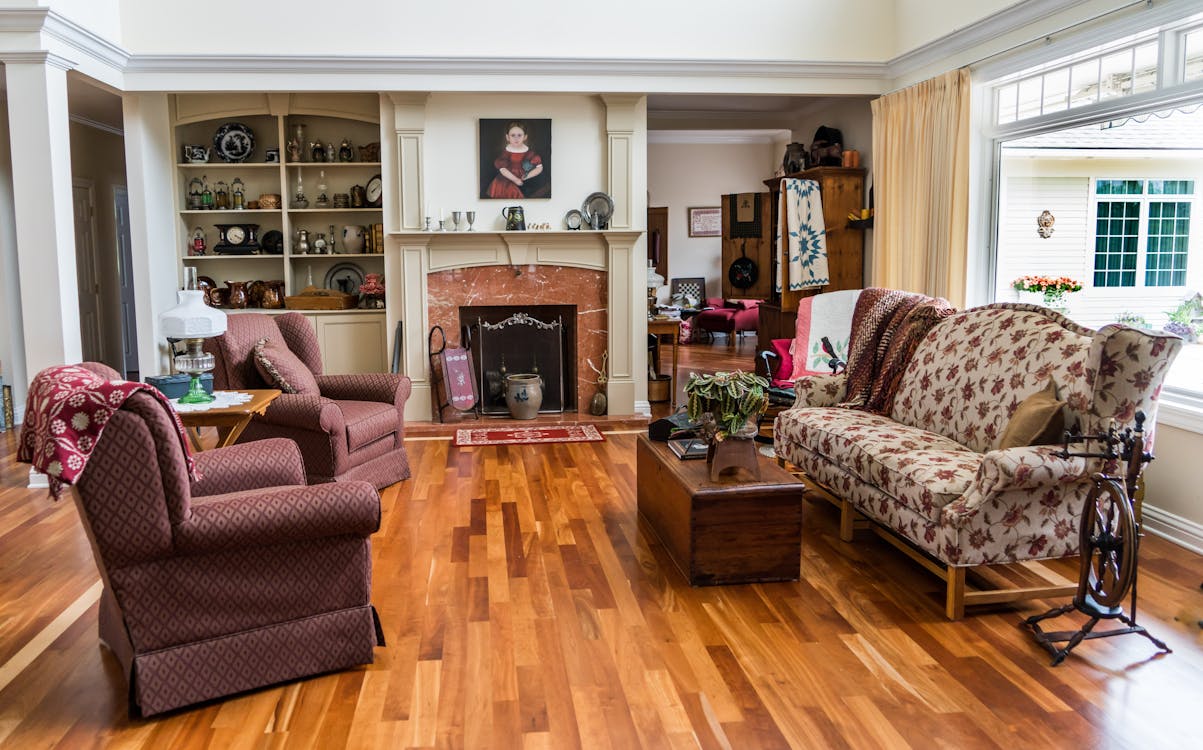 When it comes to adding furniture to the living room to spruce the living room designs and make it more functional, the first thing that comes to mind is a set of two small sofas. Well, if you look around closely, there will be still space left for another small sofa and an armchair.
This simple addition gives you additional flexibility as you can move these furniture sets easily to accommodate guests. In addition to this, a simple addition of an armchair completes the furniture set which otherwise looks empty and hollow. Plus, armchairs also add a touch of creativity to your living room.
5. No Artistic Addition
You should never shy away from going bold and beautiful in your living room by adding some fine pieces of art. There is no need to visit an art gallery and buy an opulent artistic piece that might cost you an arm and a leg. There are many budget-friendly artistic pieces that can easily spruce up the overall look of your living room.
The main focus while adding an artistic touch to your living room should be a little bit creative without losing your grip on elegance and functionality. This can do wonders for your living room designs.
6. Using Only A Single Main Light
This is more common than you think- there is always a giant big light hanging in the middle of the living room while washing out the room and making it look like an interrogation room. Instead of using a strong overhead light, which usually gives a pooled effect, you should use a set of localized lamps and use the concept of layering while adding lighting fixtures. Apart from localized lights, you also have the option of wall lights as they add additional layers to the overhead, floor lamps, and table lamp options.
Plus, they are very effective with space and quiet and unobtrusive. Make sure to plan before choosing any lighting fixture for your living room. The living room is the place where every family member gathers to spend quality time together. And when a room in your house plays such an important role in your life, you should invest time in designing it. Just try to avoid the mistakes mentioned in this blog post and your living room will look like the most inviting and engaging place in the world.