Luxury sneakers have become a must-have in every man's casual wardrobe, offering both comfort and style. Their value is undeniable, providing a level of versatility and comfort that other casual shoes cannot match. The best part? They're now appropriate for any occasion – from the office to the gym, you can dress them up or down.
While luxury sneakers may come with a high price tag, they offer premium fabrics and materials, as well as attention to detail and craftsmanship that cannot be found in mass-market brands. However, there are still high-quality and budget-friendly alternatives available. Even traditional sports and athletic wear brands such as Adidas, Nike, and New Balance have branched out to design classic streetwear shoes that can also look elegant.
Every trainer on our list, from Gucci to Tom Ford and Balenciaga, is adaptable, fashionable, and practical, making them the ideal go-to footwear for the majority of the week. We believe they're worth the investment.
Here's a quick list of the best sneakers for men available right now:
1. Oliver Cabell Low 1 Frost: The best minimalist shoes for men
Oliver Cabell has established itself as a premium sneaker brand that prides itself on its simple yet stylish design and high-quality craftsmanship. These all-white sneakers are a perfect example of their minimalist aesthetic that exudes elegance. Oliver Cabell is committed to ethical practices, utilizing ethical factories and materials in the handcrafting of all their shoes.
2. Koio Capri Onyx: Best casual sneakers for men to go with jeans
The Koio Capri sneakers collection has quickly become our go-to choice for everyday wear. These premium leather sneakers are both simple and elegant, making them perfect for dressing up during the week or dressing down for the weekend. They truly are the perfect everyday sneakers for men.
Created by two passionate sneakerheads, Koio is a fast-growing online sneaker brand that designs its shoes in the USA and produces them in Italy. Their commitment to quality craftsmanship and attention to detail is evident in every pair of sneakers they create.
3. Axel Arigato Clean 90: most fashionable men's shoes
Image source: https://www.aphrodite1994.com/
For men, there's nothing quite like a pair of sleek, understated sneakers. And we've found the perfect pair in these versatile suede sneakers from Axel Arigato, a street-smart Swedish label known for blending Scandinavian and Japanese minimalism with playful details. Dress them up with classic tailoring or dress them down with activewear or casual jeans.
Axel Arigato's Clean 90 Sneaker collection is a game-changer, offering a wide range of styles that feature everything from 3D embroidered birds to zebra print heel tabs. These cool updates to the classic Clean 90 Sneaker are handmade from premium suede with a luxurious texture, and the smooth leather back tab provides an aesthetically satisfying contrast.
Not only do these Axel Arigato Clean 90 sneakers look great, but they're also incredibly comfortable. With a slightly higher heel, cushioned footbed, and arch support, they provide ultimate comfort from morning until evening, no matter where your day takes you. We love them and are tempted to buy multiple pairs.
4. Nike Air Force 1: the year's top-selling men's sneakers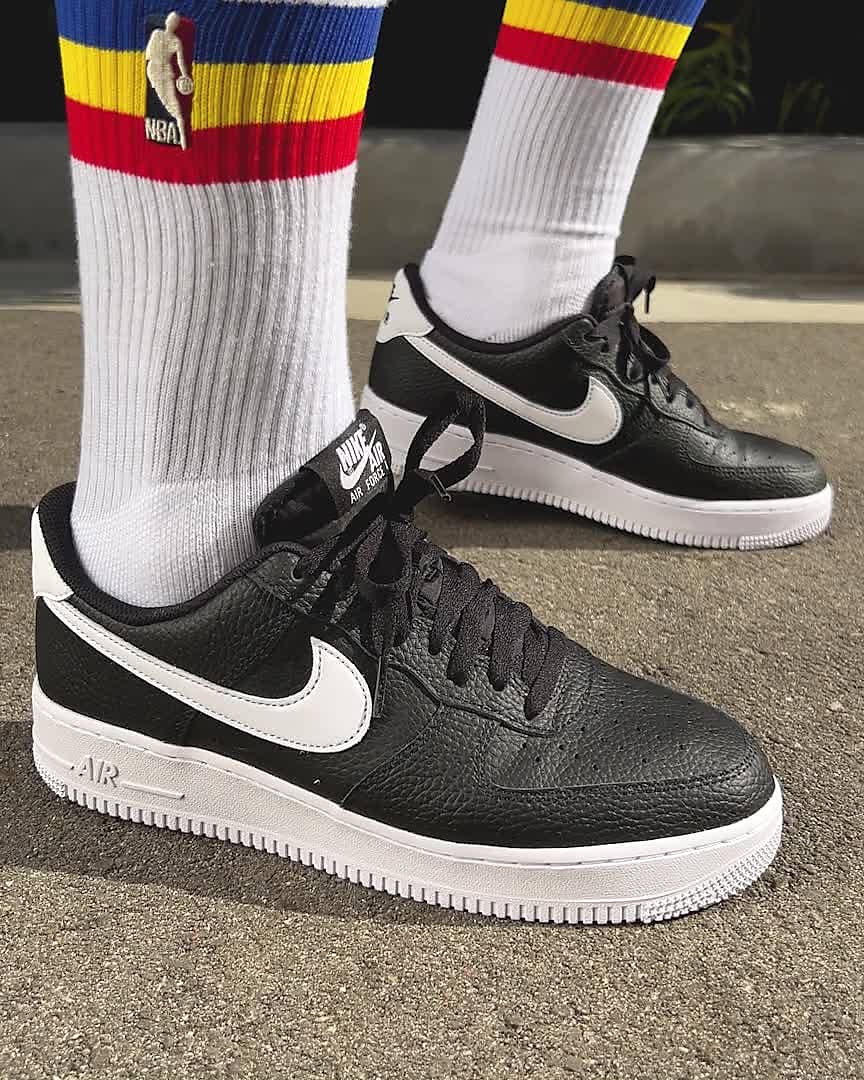 Nike is a classic sneaker brand that never goes out of style and should be a staple in any shoe collection. The Nike Air Force 1 is the top-selling men's sneaker of 2023, combining a retro yet timeless look with authentic street credibility. At just $110, the Nike Air Force 1 '07 offers great value and a durable design with clean finishes and subtle details that add a touch of shine.
Since its debut on the court, the Air Force 1 has been a defining icon of shoe culture, with its strong midsole, clean lines, and a range of new and classic colorways available in low, mid, and high-top styles. Nike By You program also offers the option to fully customize your Air Force 1 design by selecting colors and materials for every component of the shoe.
5. Adidas Ultraboost 22: Men's shoes that are the comfiest
Image source: https://dappered.com/
Adidas shook the sneaker world with the Ultraboost, praised by many for its exceptional comfort and quality. Slip your feet into a pair and you'll feel like you're walking on clouds! The Ultraboost 22, the latest edition, offers an impressive running experience as well. Plus, it's eco-friendly with recyclable materials.
Now available in a wide range of colors and styles, the Ultraboost features a breathable mesh upper for optimal ventilation on hot summer days. And unlike other luxury sneakers, it boasts genuine athletic capabilities that make it perfect for track running, gym workouts, or casual weekend wear.
6. New Republic Kurt Leather Sneaker: Best black trainers for men
New Republic's black dress sneakers make a convincing case for embracing the dark side of footwear – in a good way, with these sneakers, you can go all-black and still look stylish.
Not only do they look great, but they also feel great on your feet thanks to the sustainable Tencel mesh footbed. It's like walking on memory foam luxury mattresses. And the best part? No break-in time is required.
These classic and elegant sneakers come at an affordable price point, making them a no-brainer addition to your shoe collection.
7. Koio Capri Triple White: best white sneakers for guys
It's important for men to have a pair of white sneakers in their wardrobe as they can be paired with a variety of outfits to give an instant upgrade. To stay fashionable, consider the Koio Capri Triple White pair. These sneakers are not only stylish but also comfortable even after a long day of walking. With regular use, the full-grain leather will develop a charming patina. Alternatively, if you prefer to keep them looking pristine, they are easy to clean and maintain.
8. Amberjack The Original: best men's business sneakers
If you're seeking sneakers that can be dressed up for the office without sacrificing comfort, Amberjack's The Original is an excellent option. Available in a range of colors such as black, chestnut, and honey, you can easily match them with your preferred pants. While we think they're a fantastic choice for men over 30, younger men can also wear them to dress up.
9. Allbirds Tree Dashers: best sneakers for guys for long walks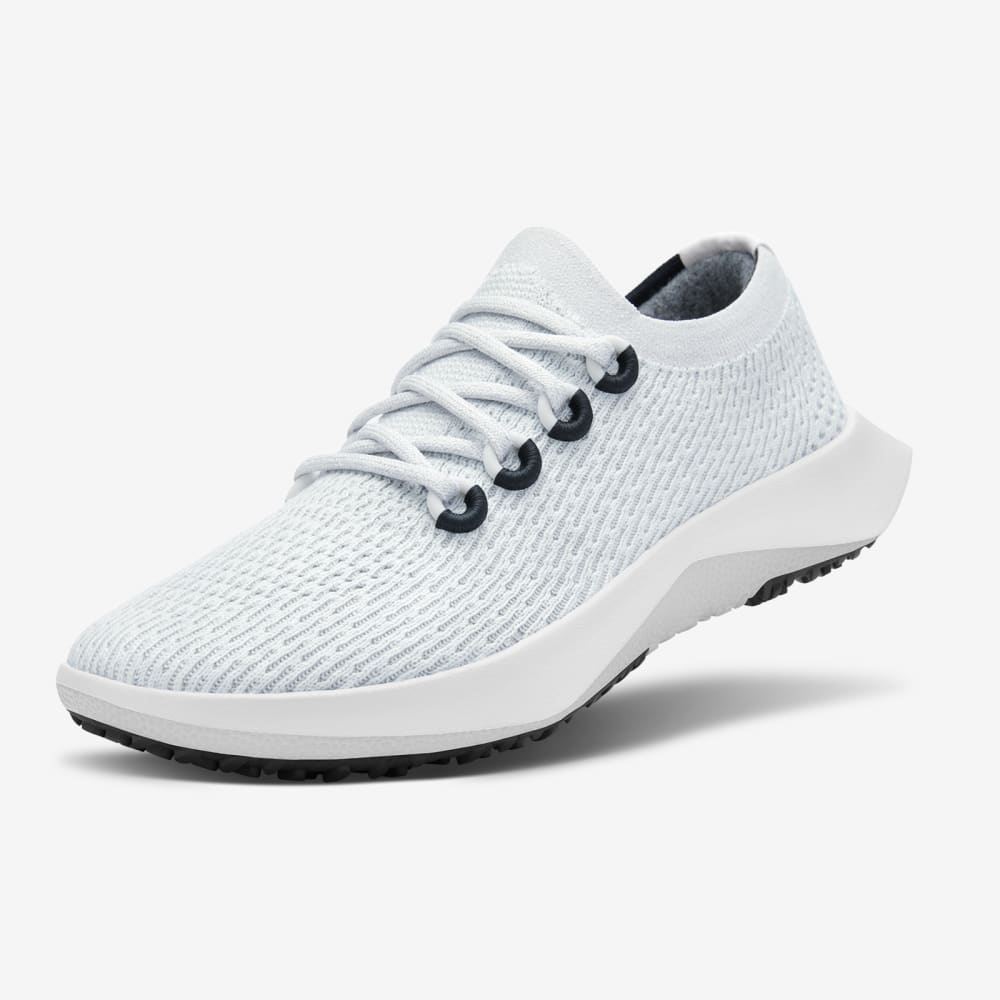 If you're a fan of Allbirds' comfortable sneakers but need a pair with more support for activities like running or jogging, the Tree Dashers are worth considering. These eco-friendly and performance-focused shoes are made from eucalyptus tree fibers and have a dual-density midsole made from sugarcane. They provide excellent support, stability, flexibility, and cushioning, and are available in half-sizes as well.
10. On Running Cloud X: Best sporting shoes for men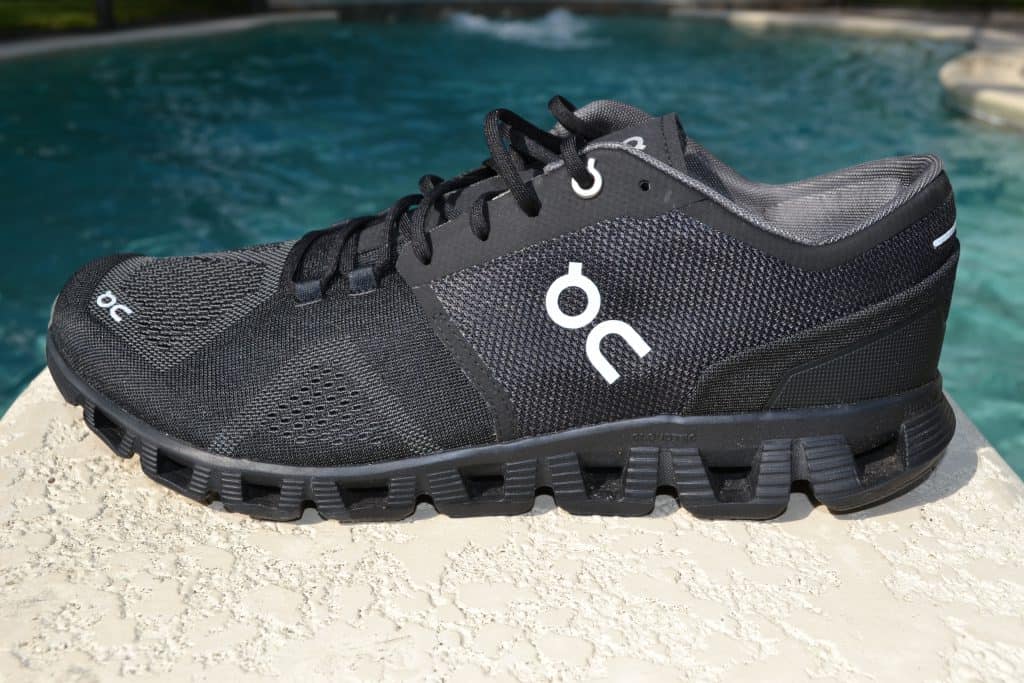 Image source: https://fitatmidlife.com/
Consider the On Running Cloud X if you are searching for sneakers that can provide support for extended periods, even if you choose to work up a sweat. The Cloud X is lightweight but has enough structure and support to be adaptable. They are so light that we use them as everyday shoes to carry out our daily duties in the summer, but according to Reddit reviews, plenty of men also wear them for exercising in the gym.
11. Nike Killshot 2: Most economical men's shoes under $100
Image source: https://www.esquire.com/
These simple yet stylish trainers are perfect for those who want to keep up with the retro and dad sneakers trend. The Nike Killshot 2 exudes a legitimate street vibe and comes with an affordable price tag of under $100. However, these sneakers are highly sought-after and tend to sell out quickly. Our personal favorite is the midnight navy iteration with white leather and light-grey suede trims, featuring abrasion-resistant gum rubber soles for a classic tennis sneaker look.
12. Vans Authentic Low Top: best sneakers for guys under $50 Image source: https://www.vans.com.au/
For those who are on a tight budget, finding a stylish pair of sneakers under $50 can be a challenge. However, there are options out there, such as the classic black-and-white Vans. These sneakers have a timeless design and are well-made, making them an excellent choice for those looking for affordable sneakers. Plus, they come in various colors to match your personal style.
13. Adidas Originals Superstar: best men's vintage trainers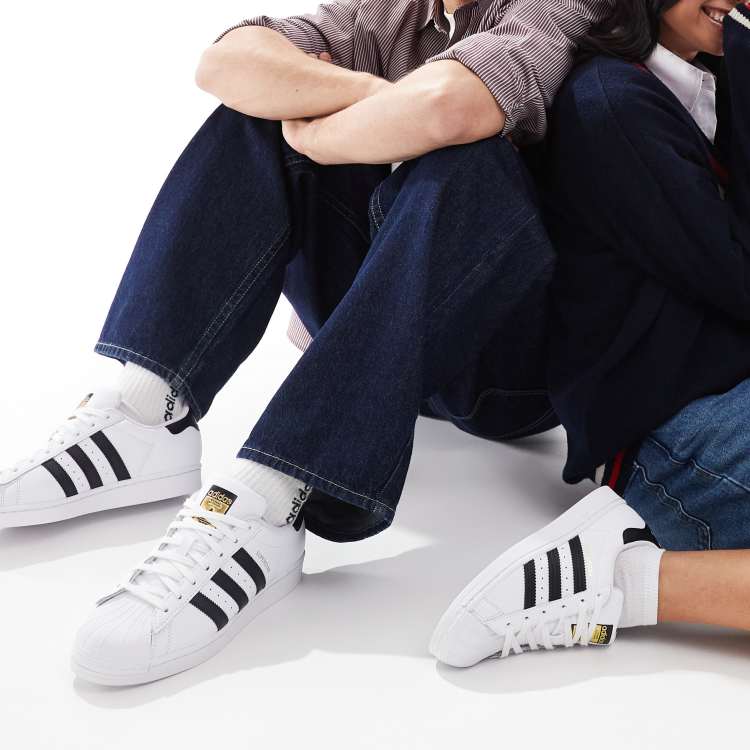 Image source: https://www.asos.com/
It's a must-have for any sneaker collection: the Adidas Originals Superstar. With a timeless design, they're often regarded as the greatest sneakers ever made. While the shoes are available in several colors, we suggest going with classic white leather and black stripes for maximum versatility.
14. Celine Ct-02 Mid Sneaker With Scratch: Men's most ostentatious trainers
Imagine source: buyma.com
Make a statement with these bold and comfortable mid-top sneakers from French luxury designer Céline, featuring a striking gold color that is sure to turn heads.
15. Adidas Yeezy Boost 350 V2: 2023's most popular men's shoes
Adidas Yeezy Boost sneakers are so popular that they are currently only available for purchase on resale websites like StockX or Farfetch. Created in collaboration between Adidas and Kanye West, they are a great option for those looking to make a sneaker investment, as their resale value has increased by 27% since their initial release. These sneakers are still among the most sought-after shoes of the year, with both hipsters and sneakerheads admiring them for their distinctive appearance and potential resale value.
16. Balmain B-Court: best men's black and white shoes
Sometimes, amidst all the colors of life, we appreciate the simplicity of black and white, just like these Balmain luxury sneakers. The Balmain B-Court sneakers offer a clean and modern design, providing both comfort and style. Crafted from premium leather and extra padding, these sneakers also feature a glossy rubberized trim at the back of the sole with the brand logo embossed on the heel, giving it an elegant touch.
17. Gucci Tennis 1977 Sneakers: best men's tennis sneakers
Image source: youtube Bobby Richardson
The Gucci Tennis 1977 sneakers showcase a perfect blend of classic tennis shoe design with a contemporary twist. This retro-inspired sneaker is made from high-quality white leather, expertly crafted in Italy. The sneakers are accentuated with heritage-inspired striped webbing trims that give them a distinctive personality. Whether you're on or off the tennis court, the Gucci Tennis 1977 sneakers are a great addition to your wardrobe.
18. Nike Air Force 1 GTX: Men's most formidable trainers
Image source: https://www.youtube.com/@schopes
The Nike Air Force 1 GTX is a highly durable sneaker made with Gore-Tex, a high-tech material that provides excellent water resistance. Its timeless design in sleek black leather gives it a classic and stylish look. The sneakers are a modern take on the classic Air Force basketball OG, with added design details.
19. Nike Dunk High Retro: best men's high-top trainers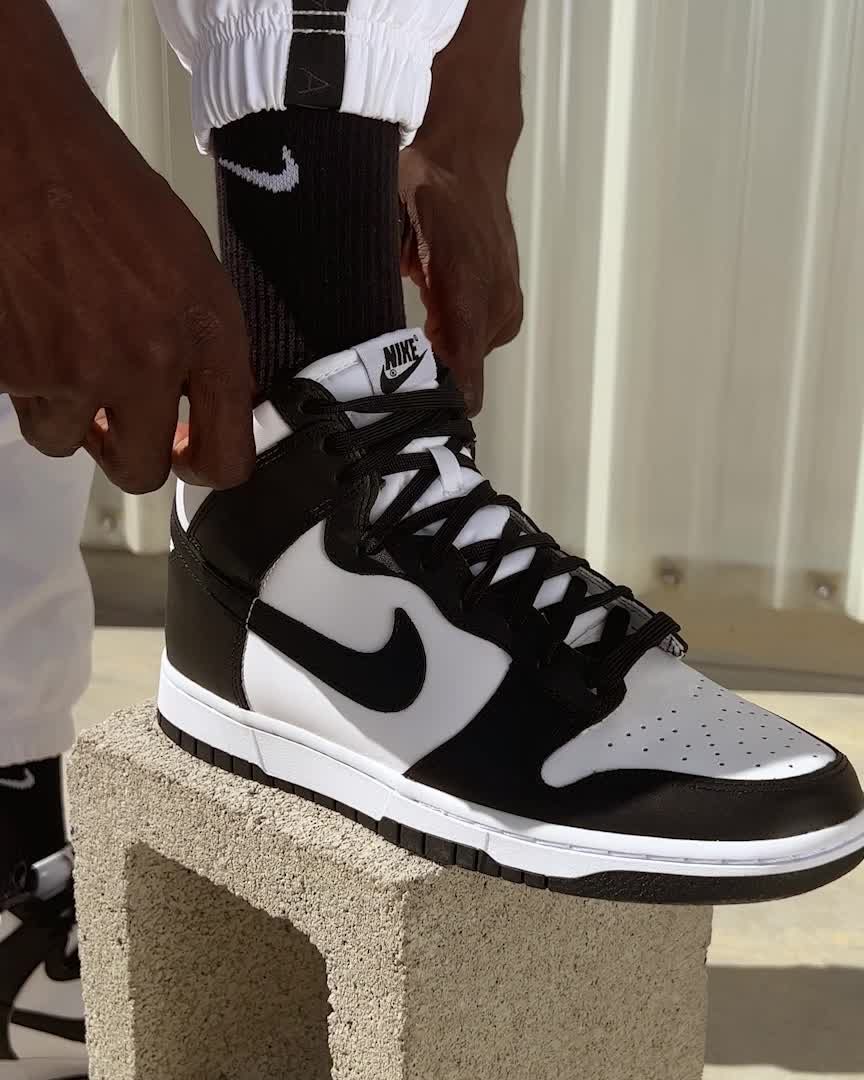 The Nike Dunk High Retro is a comfortable high-top sneaker with an '80s vintage-inspired design that exudes a street attitude. It features exciting elements that catch people's attention, making it an eye-catching and highly wearable shoe.
20. New Balance x Aimé Leon Dore Taupe Sneaker: best sneaker combos
Image source: https://www.sneakerfreaker.com/
We always appreciate great collaboration, especially when it results in stylish sneakers. The Taupe sneakers from the New Balance and Aimé Leon Dore partnership add a unique twist to the classic dad shoe, featuring a combination of suede and mesh materials and a striking color palette inspired by the bold graffiti art of New York City's subway cars during the 1990s.
21. Maison Margiela Replica Low Top Sneakers: Best timeless sneakers for men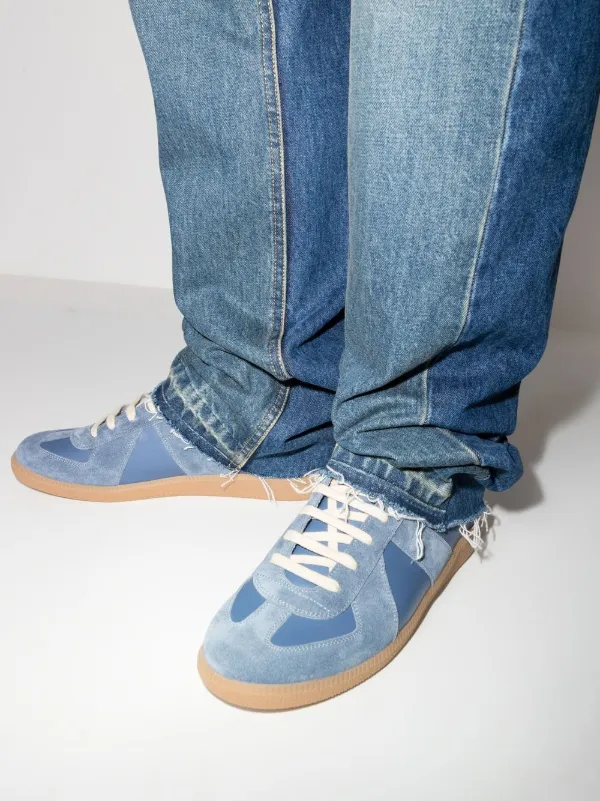 Maison Margiela's 'Replica' sneakers are inspired by the classic Austrian runners from the 1970s, providing an authentic vintage sports feel. These sneakers are made of a combination of leather and suede and are equipped with gripped rubber soles and internal straps to ensure a secure fit.
22. Nike Zoom Vaporfly: best-running sneakers for men
Image source: https://www.manvmiles.co.uk/
We are currently loving the Nike Vaporfly as our top pick for running shoes. These racing sneakers are undoubtedly the finest athletic footwear available today. In fact, they are so exceptional in enhancing speed that the International Association of Athletics Federations is investigating whether they offer an unfair advantage to athletes who wear them.
With a reworked upper that enhances comfort and breathability, as well as responsive cushioning and dependable support, the Nike Vaporfly aids in the pursuit of new goals and records.
23. Tom Ford Midnight Blue Warwick Suede: Most adaptive men's trainers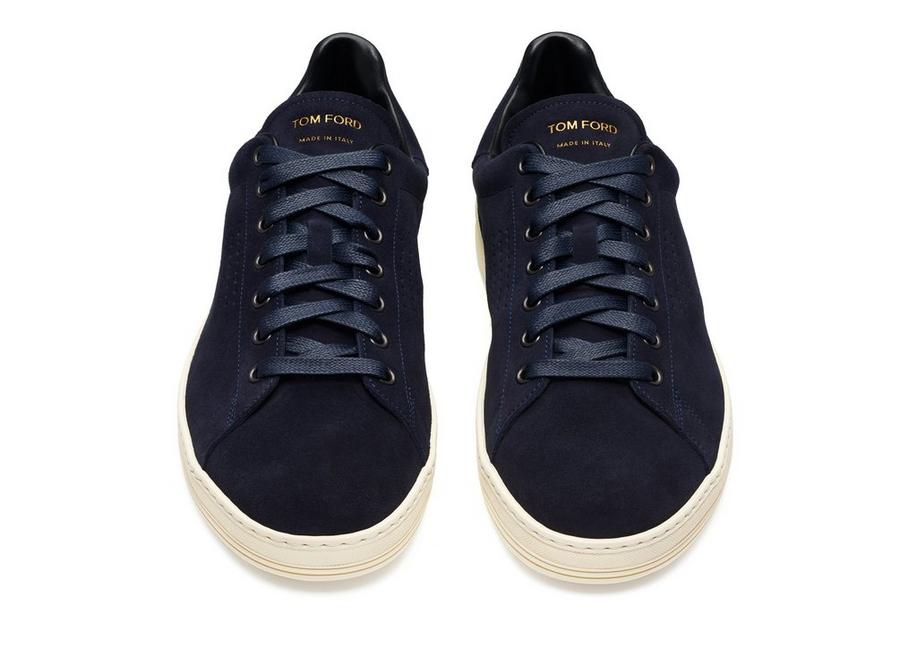 If you had to choose just one pair of sneakers to wear, the timeless Tom Ford Warwick would be our top recommendation. This classic brown suede pair is available in various colors but we adore this particular shade.
It's versatile and can be paired with almost anything in your wardrobe, making it perfect for a casual to business casual look.
Crafted in Italy with top-quality materials, the Tom Ford Warwick sneakers are discreetly branded with a perforated T logo on both sides, giving it a sophisticated finishing touch.
24. New Republic Bowery: best men's sneakers for money's worth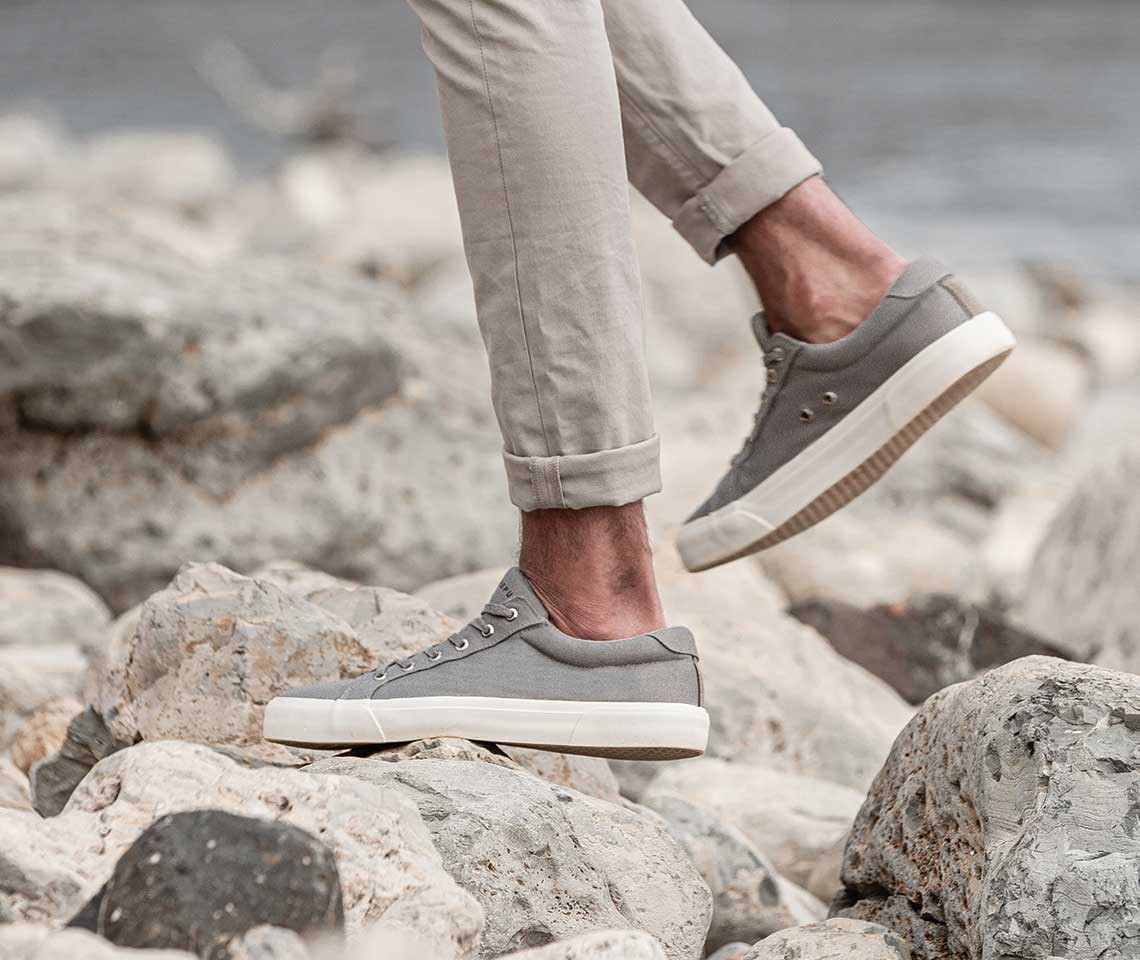 The New Republic Bowery sneakers offer a retro yet timeless style and legit street cred that's on-trend. For their quality, they're the best-value sneakers of 2023, currently retailing at less than $25. With crisp finishes and robustly stitched overlays, this version of graphite canvas gives the ideal amount of shine. New Republic's sneakers page offers many other styles and colors to choose from.
25. Loro Piana: Every trendy man needs the finest pair of sneakers.
Although one of the most expensive sneakers available, this pair of Loro Piana sneakers is worth the investment. Loro Piana is renowned for its use of premium materials and exceptional craftsmanship, and these 'Nuages' sneakers showcase the brand's expertise.
Made in Italy, these sneakers are crafted from smooth suede that's both water-repellent and stain-resistant, making them a practical choice. Lightweight and comfortable, they offer a refined look that works well with both casual and formal attire, ensuring they will remain a timeless addition to any wardrobe.
Conclusion:
The world of men's sneakers continues to evolve and 2023 is an exciting year for sneaker enthusiasts. The 25 most stylish and exclusive men's sneakers to invest in highlight the latest trends in the sneaker world, from futuristic styles to classic silhouettes with a modern twist.
Each of these sneakers offers something unique, whether it's superior comfort, cutting-edge technology, or one-of-a-kind customization options. Investing in high-quality sneakers not only adds style to your wardrobe but also ensures comfort. With these top picks for 2023, you can step up your sneaker game and make a lasting impression wherever you go.