M&M's is one of the most famous chocolate brands in the world. M&M's chocolates combine delicious flavors with vibrant colors, so it's no wonder so many people love them. While its history began in the United States in 1941, Mars Incorporated now sells it in over 100 countries. The name was originally an abbreviation for "Mars &Murrie", as the candy began as a collaboration between the Mars and Murrie companies. Both companies created chocolate due to the demand for small treats for soldiers fighting in World War II.
Mars eventually took full control of the brand and it is now one of the company's flagship products. M&Ms come in a variety of colors. These candies are unique and they don't melt in your hands, which is also part of the long-standing slogan, "Melt in your mouth, not in your hands."
As of 2022, the colors are red, brown, orange, yellow, green, and blue. These are also available in different variations. In addition to plain chocolate, there is also a version with ingredients such as peanuts, caramel, and nuts. If you've ever wondered which is the rarest m&m color or how the colors are distributed in M&M packs, this article answers those questions and more.
What Is M&M?
M&M's or m&m's are multicolored button-shaped chocolate treats with a lowercase "m" printed in white on one side. These are the flagship products of Mars Incorporated, a division of Mars Wrigley Confectionery. M&M chocolate consists of a candy shell surrounding a thick filling. Fillings vary by type of M&M's. Originally, M&M's chocolate had a slightly sweeter filling.
But many other flavors have emerged over the years, including peanut M&Ms, almond M&Ms, pretzel M&Ms, caramel M&Ms, dark chocolate M&Ms, and crunchy M&Ms, just to name a few. After the introduction of several filling variations from M&M's, the original semi-sweet filling came to be called the "plain, regular" variety.
Rick Wilkin's Mission to Find the Rarest M&M's Color
When Rick Wilkin, a statistician at the SAS Institute, and a significant M&M consumer, discovered that the data he had previously found on Mars' website, which detailed varying percentages of colors, was no longer accessible, he made the decision to do a statistical study. Additionally, he wanted to verify whether the percentages that had previously been reported on the website were accurate.
Mars manufactures his M&Ms at two factories in the United States. One in Cleveland and one in New Jersey. After checking with the company, he was able to get two separate data from both factories. He finds that the ratios of the two factories are not the same. After that, he decided to conduct an experiment.
The Rarest M&M's Color?
Wilkin's research found that green was the most common color of M&Ms, with a 19.52% share, while blue, which had been listed as the most common on the Mars website, only had a 24% share. Brown was found to be the rarest m&m color, with just 13.48%, and yellow came in second least common at 14.47%. These results were inconsistent with those initially posted on the Mars website. The sample M&M distribution statistics are shown below.
Wilkin's findings showed that the three rarest m&m color were yellow, red, and brown; this finding was corroborated by data from two factories. Moreover, Wilkin noted that brown was the rarest color of them all – a conclusion echoed by the factory data.
Moreover, Wilkin's study found that blue was the most common color of M&M, contradicting factory data which stated orange was the most common. He noted that in 1997, Mars' website listed brown as the most popular and blue as the rarest. Wilkin clarified his findings only applied to the rarest M&Ms and other varieties such as peanuts may have different ratios but were not included in his research.
M&M's Colors Have Changed With Time
As mentioned earlier, Wilkin found brown to be the rarest M&M color, but this is not always the case. In fact, M&Ms weren't always the combination of red, orange, yellow, green, blue, and brown that they are today. In 1941 he said that when M&M was first launched, the original colors were red, brown, yellow, green, and purple.
In the 1970s, a food crisis occurred due to fears that the red dye used in Purple M&Ms was carcinogenic. This was supported by a study on rats which found that "red dye #2" could lead to cancer. As a result, brown M&Ms were introduced instead at the end of the decade.  TheFDA raised serious doubts about the accuracy of this study, and as a result, M&M decided to switch from using red to orange. This choice was not well–received by many loyal customers.
In the 1980s, University of Tennessee student Paul Hetmon started a prank group called the Society for the Restoration and Preservation of Red M&Ms with paid membership dues and letters. The group got so much attention that Mars finally decided to bring back the red M&M. To this day, red exists alongside the original alternative orange. The red M&Ms had a dedicated fan base, but the same could not be said for the Tan's M&Ms. In fact, they were so unpopular that in 1995 Mars held an election to select a new color to take the tan's place. Ultimately, blue was chosen over purple and pink. The history of M&M's colors is seen below.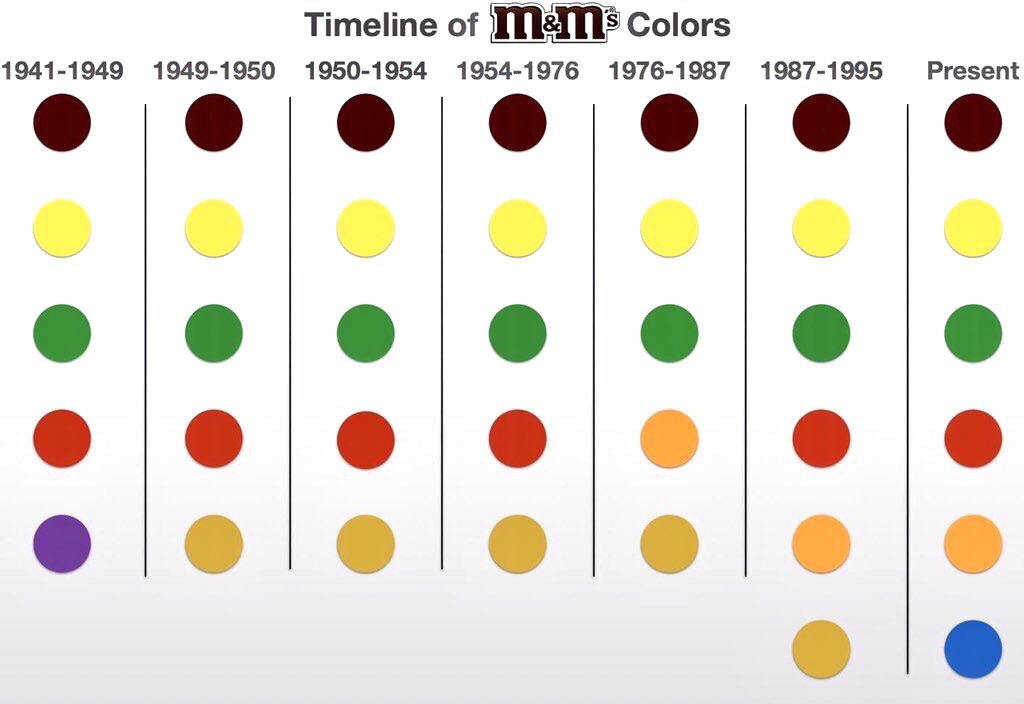 Image source:  Twitter @RetroNewsNow
Other Colors of M&M's
Red, orange, yellow, green, blue, and brown are the current standard packaging colors for M&M, but other colors also exist. Some of these colors were limited edition items used in promotions, for example in the 1990s M&M's ran a contest where the winning prize was a box of his M&M's in gray. The rarity of gray M&Ms has made them legendary among M&M fans. 
In 2012, M&Ms offered another limited-time promotion featuring their "You Picked The New Color Mix!" bundle. This special mix of colors included purple, aqua, and pink, as well as the traditional red, blue and green. These shades had been chosen by fans in a Facebook poll. Additionally, candy stores such as M&M's World offer non-standard color options like black, white, and pink.
Image source: https://www.reddit.com/r/dataisbeautiful/
Interesting Facts About M&M's Different Colors
1. Blue
Blue M&M's may not be the first color you think of when considering popular chocolate candy, but it accounts for 24% of all M&M's currently available. This shade was introduced by Mars Incorporated in 1995 and replaced tan as a top choice. Many people find this hue color to have superior flavor compared to other colors.
Did you know? Forrest Mars, the founder's son of the Mars Company, got the concept for M&Ms while seeing Spanish Civil War soldiers devour British chocolates called Smarties. The U.S. becoming involved is a fascinating coincidence. The company's first significant client during World War II was the Army.
2. Orange
Second, the most frequent color seen in the pack is orange, orange M&Ms account for 18% of all the colors. In 1976, these candies joined the chocolaty team. They were introduced as a replacement for the red M&Ms, which were thought to contain chemicals that could cause cancer. The mascot used to promote pretzel M&Ms is orange.
Did you know?A 20% stake in the product was owned by William F. R. Murrie, the president of Hershey Chocolate. He is represented by the first M, and Forrest E. Mars Sr., the creator of Newark Company, is represented by the second M.
3. Green
Image source: fanpop.com
Green color M&Ms are an integral part of St. Patrick's Day celebrations and Christmas decorations. Representing the hue green, which is often associated with youth, fertility, and progress, Ms. Green serves as the candy's spokesperson – a fitting role for her outgoing and outspoken personality.
Did you know? M&M's candy is not only a popular ingredient in cookie recipes, but it has also been the subject of many rumors. For instance, Mars Incorporated often used the myth that green-colored chocolates had aphrodisiac properties to promote their product.
4. Yellow
Image source: https://www.mms.com/
Due to their vivid brightness, yellow-colored candies were a favorite of the original M&M crew and of many consumers. These are the best decorations to use for kids' parties and summer treats. Additionally, yellow and red were the original M&M's spokes candies and were showcased in almost all of M&M's commercials. The Yellow character is seen as being straightforward and fond of fluffy things.
Did you know? In 2001, Dulce de leche M&Ms were released in areas with a high concentration of Hispanic people. Unfortunately, the product was not popular with this demographic, and Mars had to discontinue its sale by early 2003.
5. Red
Image source: https://mercatornet.com/
Due to their contentious past, red M&Ms have been pulled off the shelves for more than ten years. In 1976, Mars switched to orange–colored chocolates due to public outcry over the synthetic dye FD&C Red No. 2. While red M&Ms did not contain the contentious ingredient amaranth, Mars anticipated that people would nonetheless avoid them altogether. Today, depending on the country, red chocolates are available with a variety of coating ingredients.
Did you know? In 1991, Mars introduced Peanut Butter M&Ms. But in 2013, the size of the peanut butter drastically shrunk.
6. Hot Pink
Image source: Pinterest.com
There isn't much information about hot pink M&Ms, but these chocolates are rare as they are limited editions. So Mars uses similar ingredients to make this color and red M&Ms. Consumers can choose pink candies on M&M's website to personalize the packaging. However, this color is not currently available.
Did you know? Mars 2010 released the Pretzel M&M's. These candies have crunchy, salty pretzels in a chocolate shell and are roughly the size of peanut butter M&M's.
7. Silver
Image source: mms.com
M&M's in a silver hue are special and exclusive to certain occasions. They offer a classic feel to weddings, anniversaries, birthday buffets, and other celebrations when used as decorations or mixed into chocolate icings. Though they're not available at stores, these treats are certified kosher dairy products which can be found online.
Did you know? Fans can vote on which of the M&M flavors they would like Mars to produce in 2015, choosing between Honey Nut, Coffee Nut, and Chili Nut. American actor Tony Hale announced that Coffee nut was the winner.
8. Cream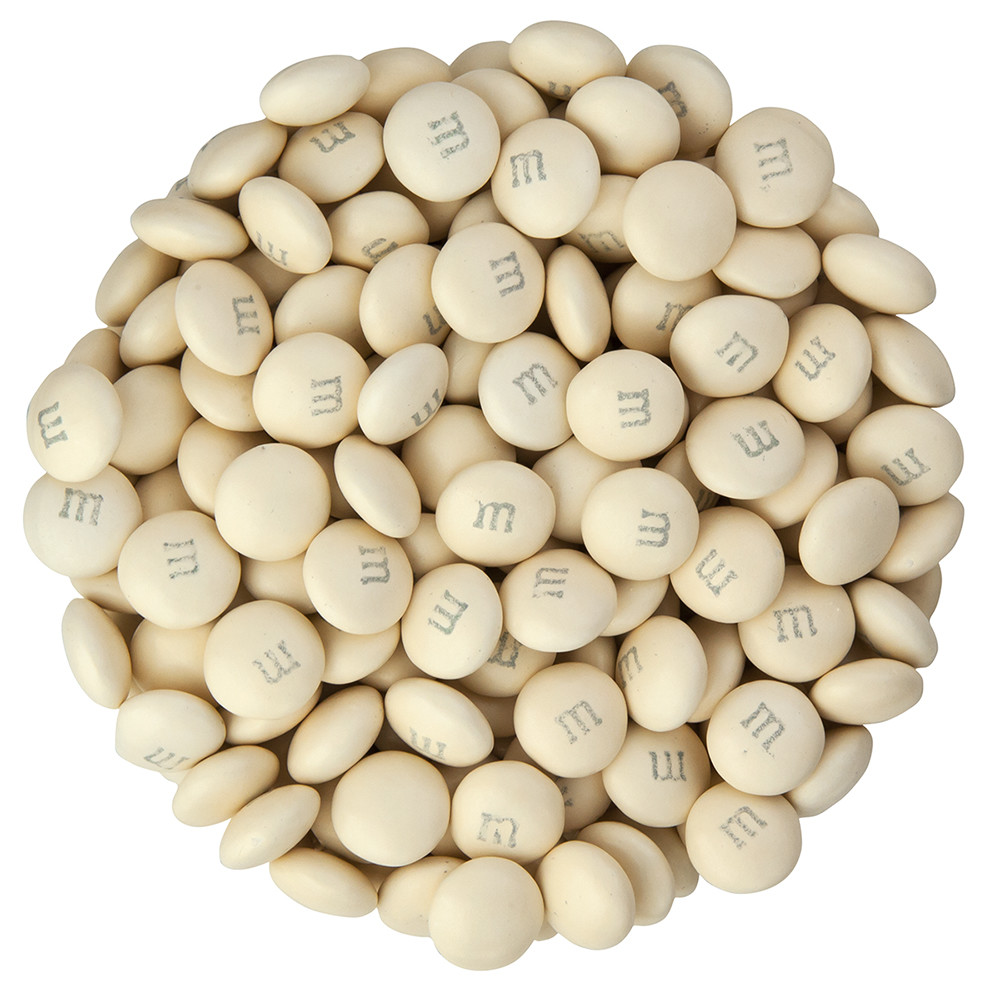 Image source: cloudinary.com
Due to their unique coating color, these M&Ms are highly sought after. People love them for adding a festive touch to dessert tables and candy buffets, as they make excellent edible decorations. The neutral cream hue of the M&Ms makes them quite versatile, thus increasing their desirability even further.
Did you know? Mars refused to include their M&M's chocolate for Steven Spielberg's 1982 film, E.T., and Hershey saw this as a great opportunity to promote Reese's Pieces instead. This resulted in a dramatic boost in sales for the latter company.
9. Purple
Image source: musebycl.io
Mars makes M&Ms in a variety of colors, but purple chocolate is the hardest to find. Consumers can find them online, but they are not available in the Classic Pack. But purple M&Ms add a unique accent to any event or party and help to present a bold color scheme. Mars offers purple candy bags in four sizes, allowing for even more variety of edible decorations.
Did you know? Purple M&M's were originally part of the Classic Pack, but in 1949 Mars replaced them with tan candies. They reintroduced them after a vote was held in favor of a comeback in 2002, but this was short-lived as it was a limited-time promotion.
10. Brown
Although unlikely, brown is the most unusual color in M&M's classic packaging. However, this was once one of the dominant shades and took up more space in bags than it does today, but why brown is the rarest M&M color is a mystery. On the other hand, each factory may use different ratios, and these candies may be more common in some countries than others.
Did you know? In the 1980s, rock band Van Halen had a tour clause stating that all M&M's brown chocolate had to be removed from their backstage bowls. They revealed in his 2012 interview that he used this as an indicator of whether his concert promoters had actually read the complicated contract.
The Takeaway
Many people enjoy M&M's chocolate as a sweet treat, and their favorite colors tend to vary. According to a Reddit poll, blue and brown are the most popular colors among both men and women, while green and yellow are preferred by women, and orange is favored by men.
Interestingly, although brown candies make up 13% of the packaging they are actually the rarest m&m color. It is speculated that this color was never taken off the shelves due to its lack of controversy compared to other chocolates.