The adage 'travel broadens the mind' encapsulates much of what is great about travelling. It helps us to gain more perspective and knowledge of the world, of other people and most importantly of ourselves. Travelling allows us to experience the planet's most beautiful natural landscapes as well as man's oldest and most awe-inspiring creations. Equally important are the people who inhabit such places, with travel allowing us to celebrate the Earth's diverse cultures.
It's a dream of many to be able to travel, something usually only accomplished through years of frugality and saving. Whilst the amazing experience is more than worth the hassle, travelling is not without its tribulations. Every traveller is subject to countless hours of tedious waiting, whether at train stations, airports or docks. Thankfully, app stores are brimming with gaming apps to keep you entertained for hours during those long intervals.
With its familiarity, ease of play and huge player base, online poker is a hugely popular choice for travellers. Equally attractive are the great deals for new players, including no-deposit free bonuses. Whether played alone, with friends or with family, this article lists the best games during those hours of monotonous downtime. 
1. Psych
This Ellen DeGeneres offering is a fun party game, great for long road trips or when gathered around the table. Distinct decks each offer a differing experience, guaranteeing longevity even after hours of playing. In 'The Truth Comes Out', players must invent answers to questions regarding one of the other participants.
For example, 'What's The Last Thing David Googled?' 'Word Up' and 'Movie Bluff' vary in that they require players to fabricate answers to real-world trivia questions. Primarily designed to reward wit, Psych can be hilariously funny with ridiculous answers from the right people.
2. Pictoword
Word games are great time killers as the right ones can keep us scratching our heads for hours. Pictoword's simple premise in no way impacts the amount of fun that can be had. The game shows two pictures that together form a single word.
For example, the answer to a picture of a foot accompanied by one of a ball would be football. Although designed as a single-player experience, alternating turns make for an easy transition to a more social multiplayer game.
3. Family's Game Travel Pack Lite
This game pack offers something for every manner of the traveller with a collection of around 50 unique games. These include timeless classics such as sudoku, chess, tic tac toe, snakes and ladders amongst many, many others.
All games are available offline, with up to six players permitted around a single device. Solo play against AI is also an option, as well as online multiplayer for those with a stable internet connection.
4. FTL iOS
Offering a more complete and detailed experience, FTL iOS is a mobile variant of the hugely popular PC game. The player takes control of a ship traversing space and trying to save the galaxy. Gameplay focuses on issuing orders to your crew, choosing weapons for battle and managing ship distribution. Strategy is essential, and the key decisions made at crucial times make or break in potentially perilous situations. A randomly generated galaxy makes each playthrough unique and ensures that replaying the game requires fresh and dynamic decision-making.
FTL is a game that caters to both sci-fi and strategy fans, receiving both critical and commercial acclaim in equal measure. After its 2012 release, the PC version was voted for IGN's Game Of the Year, a testament to the game's quality.
5. Battleships: Fleet Battle
A classic travel game, this digitalised version removes the need to account for the tiny, easily lost pieces. Players allocate five ships that vary in size across a 10×10 grid. The aim is to destroy your enemy's fleet by calling out coordinates for where their ships are potentially located.
Both competitive and unpredictable in nature, battleships keep multiple travellers entertained for hours. This free game allows you to play alone vs the computer, local multiplayer, or online.
6. Don't Starve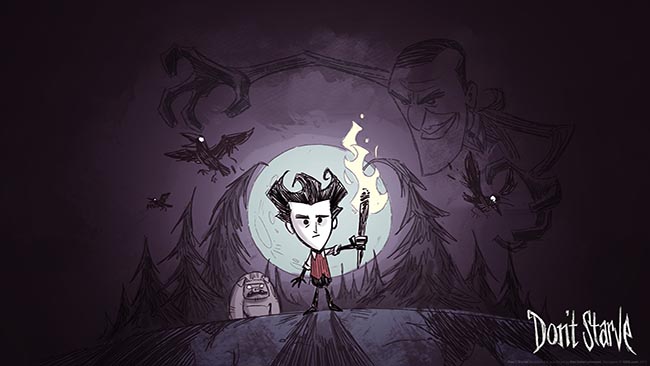 Image source: https://steamunlocked.net/
Don't Stave's moreish nature makes it very hard to put down. This survival game drops the player into an unfamiliar landscape, with monsters and animals scattered throughout. As the name would suggest, the primary objective is to ensure your character remains well-fed.
Whilst food is bountiful in the summer, the harsh winter months often spell peril. Furthermore, Don't Starve is a sandbox meaning it continues indefinitely until the player succumbs to starvation or the world's hostile creatures.
Staying Entertained When Travelling Is Easy
Just as apps improve our life in all manner of ways, travelling isn't any different. From curing boredom to helping us navigate unfamiliar environments, the mobile apps we use are indispensable.
Any traveller will be aware of the tedious hours of waiting that accompany any long-haul journey. The right mobile apps can make time fly, resulting in a much more fun experience.