Snapchat is one of the most popular social media platforms with millions of monthly active users. Since its launch in 2011, this social media application has brought many changes to the way that users view the content they share. The ephemeral nature of the snap has unlocked the users' creativity since they can rest assured that their snaps will not be saved. Even before the introduction of stories, snaps had been the go-to type of content to share silly and funny content with all of your friends.
Snapchat has also brought many interesting features. One of them is called Snapchat score, or Snap score, and it's a feature that brings prestige to the user. In this article, you are going to learn what the Snap score is and what the highest Snap score is achieved by an app user.
What Is a Snap Score?  
In essence, the Snap score is a feature that measures your in-app activity. This means that it represents how many snaps you have sent to your friends over the time you have been using the application. However, nobody knows what exactly Snapchat's algorithm is taking into consideration to calculate your Snap score.
In addition to the snaps you have been sending and receiving on Snapchat, the app will also consider several other aspects. For instance, it will count the number of stories you have posted, the number of your friend list, and the days of Snapchat streak you have with your friends. Furthermore, if you have been inactive for a while, the app might award you with extra points to welcome you back.
So, What is a Snap score? Simply put, it is a numerical value that represents your overall activity level on the platform. The more you use Snapchat to send snaps, post stories, and engage with the app, the higher your Snap score will be. So, if you're wondering how to increase your Snap score, the answer is simple: keep using the app regularly!
However, it is important to note that not everything that you do on the app will affect your Snap score. For example, you will not see your score change if you open and view your friends' stories. Moreover, your Snapchat score is not affected by the text messages that you are exchanging with your friends as it only counts the snaps that you send and receive. Therefore, if you want to improve your score, make sure that you are sending as many snaps as you can.
How to find your Snapchat Score?
If you are curious to find out what your current Snapchat score is, then you simply need to launch the application. Then, tap your Bitmoji at the top left corner of your screen. Underneath your username and Snap code, you will see a number, which is your Snap score. If you tap on it, you can see exactly how many snaps you have sent and how many you have received so far. By following the same steps, you can also discover the Snap score of your friends.
Additionally, you may refer to the following video to learn how to check your Snap Score:
What to Do if Your Snapchat Score Is Not Refreshing
Every time you send a snap, your Snapchat score is automatically refreshed. If you send 10 snaps to your friends, your score will increase by 10. Similarly, if you receive 10 snaps, your score will also increase by 10. Nevertheless, in 2021, many users have complained that their Snap score has not been refreshing as it should. If you encounter this issue, you shouldn't panic as you can easily solve it.
First of all, visit Google Play or the Apple Store to make sure that you have the latest version of the application installed on your device. Then, wait for a few hours as the glitch might go away after a while. Lastly, when all else fails, uninstall and reinstall Snapchat on your device to eliminate any possible bugs. Then, you can continue to build the Snap score.
What is a high Snap Score?
The Snap score is a feature on Snapchat that tallies the total number of snaps sent and received, as well as other factors, and provides a numerical score as a result. Although Snapchat does not publicly disclose the highest possible score, one question that many users have is: What is a high Snap score?  While there is no official benchmark, some users with a score in the hundreds of thousands or millions might be considered to have a high score.
However, it's important to remember that the purpose of the Snap score is not to encourage competition or comparison between users. Snapchat intentionally keeps the highest possible score undisclosed to prevent this type of behavior but it is widely believed that the current highest score is 320 million, as reported on the internet.
On the one hand, this is a great practice that caters to the mental health of its users as the comparison between some active accounts might make you feel bad. Nevertheless, you can still browse the Snap score of your friends and discover who has the biggest one among you.
Who has the Highest Snap score in the world?
According to the report, @mustbecris currently holds the record for the highest snap score in the world 2023 among all worldwide users, with a score of over 320 million. To achieve this score, a user must send and receive more than 1,000,000 snaps daily. The key to succeeding in this endeavor is to add as many people as possible and to send snaps to multiple friends at the same time.
Below is a screenshot of the current highest snap score that belongs to @mustbecris: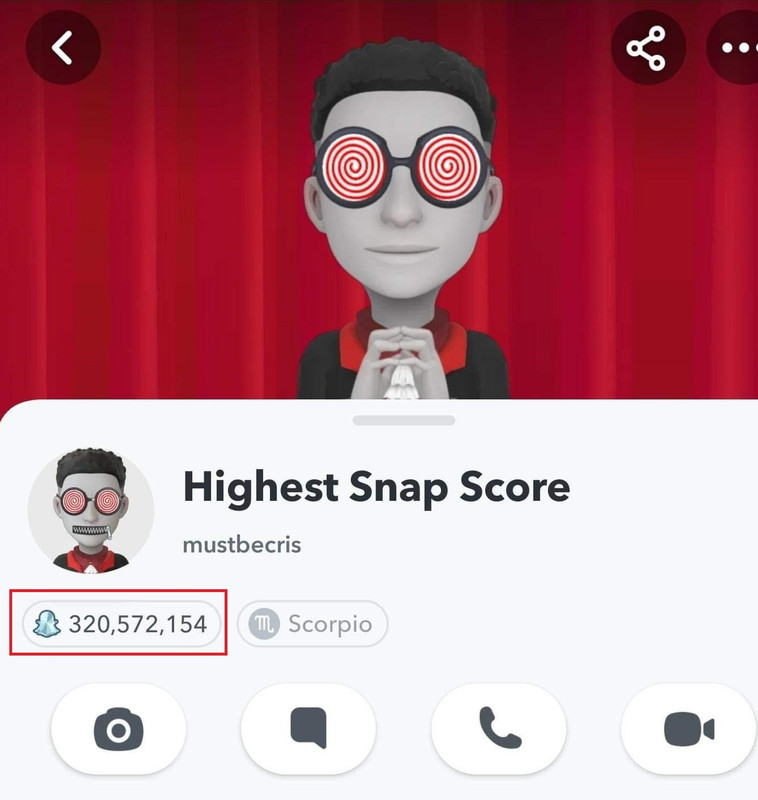 Snapchat has been a popular social media platform since its inception, with millions of users around the world exchanging snaps and messages every day. Over the years, some users have achieved remarkable Snap scores that have earned them prestige and recognition within the Snapchat community.
In this context, we have compiled a list of the top highest Snap scores achieved by worldwide users. The following list showcases some of the highest Snap scores ever achieved, and the individuals who achieved them.
Here's the updated list of users who have scored the highest Snap scores worldwide:
1.

Mustbecris

320 million

2.

Cris-thisguy

250 million

3.

Dion-19

237 million

 

4.

Michaelmendieta

30 million

5.

Michae86l

29.6 million

6.

Ciqlo

26.6 million

7.

Gpierson_20

20 million

8.

Daydrunks

20 million

9.

Humalajokii

15 million

10.

Noah Rittle

13.6 million
Note: This list is based on publicly available information and may not be entirely accurate or up-to-date. Additionally, the Snapchat scoring system may change over time, which could affect the accuracy of these scores.
By the time you read this, the top Snap score may, however, have gone to someone else as each day passes.
If you want to be a part of this list then send us your highest snap score at [email protected] or contact us here. We will try to update this list every month with your scores.
Who has the highest Snap Score in 2021?
When it comes to 2021, it is difficult to estimate who has achieved the highest Snapchat score. The pandemic has forced all users to stay at home without much to do. For this reason, everyone has been using social media, including Snapchat, even more than ever before.
However, some users continued to have high Snap scores and @cris-thisguy has managed to get ahead in the leaderboard, getting the highest Snapchat score of over 50 million in 2021 that are believed to be among the highest ones worldwide.
Below are the users who have high Snap scores with millions of points in 2021:
1. @cris-thisguy – over 50 million snaps
2. @michae86l – over 29.6 million snaps
3. @gpierson_20 – over 20 million snaps
4. @ciqlo – over 26.6 million snaps
Who has the highest Snap Score in 2022?
In 2022, the situation has been equally difficult as the previous years. The pandemic is still going on strong, and people are still confined in their homes. Since every user has been trying to pass his time on social media, more and more people have managed to gain high Snap scores.
The User name @mustbecris holds the record for the highest score ever achieved on Snapchat, with an impressive 320 million snaps and counting as of 2022. This remarkable achievement is the result of sending and receiving multiple snaps, with an estimated accumulation of over 1,000,000 points each day. To this day, @mustbecris maintains its position as the highest-scoring user on the platform.
What is the normal average Snapchat Score?
Taking a look at these numbers, you might be starting to wonder how much should the average snap score look like. It is the truth that there is no right or wrong answer as it all depends on how active you are on the application. You might not get the highest Snapchat score but you can achieve a decent score that you can be proud of.
How is Snapchat's score calculated?
Your Snap Score on Snapchat is an intriguing reflection of your level of activity and socialization on the app. Although it is purely cosmetic and has no practical use, increasing your score can be an entertaining pastime. Here are some of the factors that contribute to your Snap Score:
The number of Snaps you have sent and received
The number of Stories you have posted and viewed
The number of Discover videos you have watched
The number of friends you have on Snapchat
Bonus points for sending Snaps to multiple people at once and for maintaining Snapchat Streaks by sending Snaps to your friends daily. Although there may be more variables at play, Snapchat has not disclosed any further information on how Snap Scores are calculated.
For instance, if you have around 1,000 people on Snapchat, you can quickly reach a Snap score of 50,000, and even more. If you are super active and new friends all the time, your Snap score will only keep rising.
What are some strategies to increase your Snapchat score daily?
If you want to build your Snap score and impress your friends, then you have to spend some time every day sending snaps to your friend list. Studies have shown that the average Snapchat user will send 20-50 snaps every single day. This is a good number since it means that your score will increase by 50 daily just by the snaps you are sending.
If you dedicate enough time and effort to grow your friend list, even more, you can grow your Snap score even faster since you will be sending more and more snaps. Just remember that text messages and video calls don't count for your score.
Highest Snap Score for a Girl
Many guys will hesitate to add a girl with a high Snap score. However, when a girl has a high Snapchat score, then she just has a long friend list that she keeps in touch with.
It doesn't mean that she playing around. Social media have become an essential part of our everyday lives, and so, it becomes easier and easier to find people with high Snap scores.
Highest Snap Score for a Boy
The same thing can be applied to guys with the highest Snapchat score. The users that are leading the Snap score race are all guys with a huge friend list. By doing this, it has become easier for them to maintain their position as the profiles with the highest score since they will receive hundreds of snaps every day.
Celebrities with the Highest Snapchat Score
The users that can easily gather a high Snapchat score are undoubtedly celebrities, who have gathered a great number of followers on the platform. Some celebrities that stand out for their highest snap score ever are:
1. DJ Khaled (@djkhaled305)
2. Ariana Grande (@moonlightbae)
3. Kim Kardashian (@kimkardashian)
4. Bella Thorne (@bellathornedab)
In Conclusion
Snapchat score is an interesting feature that millions of users love. It is an element that you can use to compete for fun with your friends and see who can get the highest snap score ever.
If you are very active on the platform and you have a lot of friends, you can gain many points each day, thus growing your Snap score very quickly.